7 Delicious Camping Meals To Try On Your Next Trip
Cooking in the outdoors may seem tedious, and it's true, throwing a seran-wrapped sammie in your backpack and calling it a day is definitely the easier alternative (and we're not just saying that because we own a
backpack company
... or are we?) However, if you take the time to bring the proper equipment and ingredients on your next camping trip/back country exploration, you're sure to be rewarded with a new and improved type of 'eating out' experience. To get your creative juices flowing, here are 7 absolutely delectable meals to cook up on your next adventure!
Ps. If you've been nominated pack mule for your next trip and need a large (but good looking) backpack to fit all of your cooking stuff, take a look at our Weekender backpack right here!

Cast Iron Brats With Peppers & Onions
As far as a camping meal goes, fire grilled brats are simple, easy, and unpretentiously delicious. But introduce a cast iron skillet into the mix, and you have the opportunity to transform this classic meal into something extraordinary.
Toppings are a great way to elevate your bratwursts, and few are more sought after than caramelized onions and peppers. Cooking them over a campfire is an easy task - just slice the peppers and onions thinly, toss in olive oil, and saut
é
 all at once in a skillet placed on the grate over the fire. To add a bit more spice to your brats, substitute bell peppers for a hotter kind like jalapenos or poblano peppers.
(Via: freshoffthegrid.com)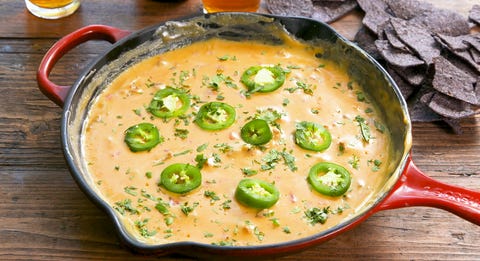 Campfire Queso
Let's be real, everyone loves cheese - and especially queso. To make your own campfire queso you'll need a cast iron skillet, a cheese of your choice (we suggest white American cheese or Monterey jack), a splash of your favorite beer, some hot sausage, a can of chopped tomatoes and (if you want to be extra fancy) some cilantro for serving. Just fry the sausage in the pan until no longer pink, add the beer (about half a cup), and then dump in the rest of the ingredients and wait for the cheese to melt. Top with that fancy cilantro you brought (and a sliced jalapeno if you're in the mood for something spicy), and use chips to eat it straight from the skillet. Voila, a perfectly delicious campfire snack!
(Photo: delish.com)
Pie Iron Pizza Pockets
A personal pizza in a handy little pocket, these campfire pie iron pizza pockets represent everything we love about camp cooking. They're quick, easy, and so much fun to make. Crispy crust, melty mozzarella, and any topping your heart desires. Sign us up!
To make these little packets of deliciousness you'll need pre-made pizza dough (either from the store or that you've made yourself in advance), a pie iron, and whatever filling you prefer (we're thinking mozzarella cheese, tomato sauce, pepperoni and onion...yum!). For each pizza pocket, shape two pieces of dough into a square (it doesn't need to be perfect, after all, nature's beauty is in the imperfections, right?). Place one dough-square in your pie iron, add your filling and place the second dough-square on top. Fry over the open fire until the pizza pocket is golden brown on each side. Enjoy!
(Via: freshoffthegrid.com)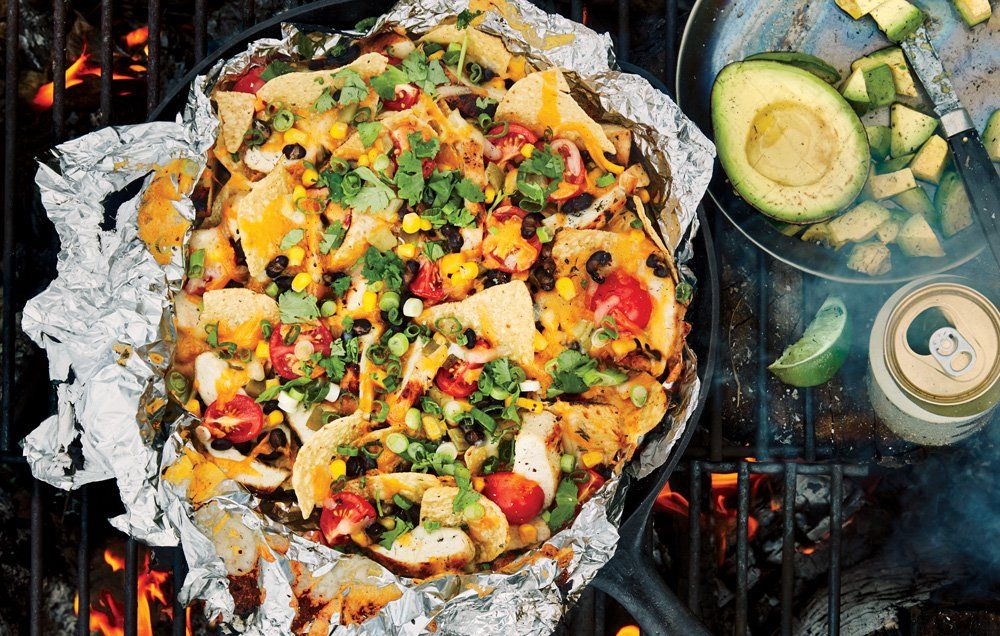 Foil Packet Nachos
You can make these easy nachos packets as small or as large as you'd like, making them for a crowd or just for yourself. They're fully customizable and super delicious. To make your own nachos, all you have to do is place a layer of tortilla chips on some foil (make sure to have some extra foil around the edges, so that you can fold up the edges and stop any cheese from dripping out on the sides), add whatever toppings you'd like (this could be pre-grilled chicken, beef, tomatoes, onion, corn, avocado... the possibilities are endless!), and top it off with a layer of shredded cheese. For a quick and tasty nacho sauce mix sour cream with a bit of BBQ sauce and drizzle it over your fire grilled nachos.
(Photo: menshealth.com)
Camp Fire Pizza Melts

These ridiculously easy grilled sammies will impress adults and kids alike. Simply butter a few slices of bread, add tomato sauce, shredded cheese and pepperoni, and grill over the fire in a sandwich iron. To get that crispy golden finish that we all crave, make sure to put the buttery side of the bread out, so that the butter gets browned against the iron. Bon appetit!
(Photo: tasteofhome.com)
 Chicken Pineapple Kabobs
These Chicken Pineapple Kabobs are one of the easiest meals to cook over a campfire. Just chop chicken, red onion and pineapple into pieces, skewer with a stick, and place over the fire! To make the skewers extra tasty, make sure to add a marinade before grilling. You can make a sweet and tangy marinade using olive oil, honey, fresh lime juice, and cilantro (make it in advance and bring it in a container to make prep easy). This meal is so simple, it's practically foolproof! With bright, tropical flavors, these Pineapple Chicken Kabobs are an easy, fuss-free camping meal perfect for summertime grilling.
(Via: freshoffthegrid.com)
S'mores Toasties
If you ask us, no campfire meal is complete without some kind of dessert. Classic s'mores are great, and you can never go wrong with a burnt-to-a-crisp marshmallow, but if you are looking to upgrade your camping dessert arsenal, you might want to give this delicious treat a go! For these S'mores Toasties you'll need a pie iron, cinnamon swirl bread, graham crackers, chocolate chips and mini marshmallows. To make this wonderful camping treat, just place one slice of cinnamon bread in the pie iron, add mini marshmallows, chocolate chips and some crushed graham crackers and place a second slice of cinnamon bread on top. Grill over the fire for about 1 minute on each side, and you're done! Easy as that!
(Photo: jellytoastblog.com)