10 Essential American Road Trips
Road trips are the quintessential American adventure. There's honestly nothing quite like hitting the open road with your favorite people, blasting your favorite music, and eating far too many gas station snacks - taking the long road to your destination. The changing landscapes can set the mood, from sprawling red desert, to winding mountain roads, and rolling hills. It just feels right.
Matilda and I started Adventurist Backpack Co. a few years back in 2017, and one of our fondest memories from those early days is from when we would go on road trips to deliver orders to stores that started carrying our backpacks. In reality, it would have been much cheaper and easier to just ship them to each store rather than to drive for hundreds of miles. But we honestly loved (and still do!) creating any excuse possible to hit the road and make an adventure out of it.
So after much driving deliberation and road trip research, we've put together a list of what we think are the 10 best road trips in the U.S. (though any road trip will do!) Some of these we've tested ourselves with outstanding results, and others we've yet to cross off our list. Enjoy!

I-70 West from Denver to Moab (or beyond)
We'll start off with our personal favorite! Since Matilda and I (and Adventurist Backpack Co.) are based out of Denver, CO, the drive west on I-70 through the Rocky Mountains holds a special place in our hearts. The towering mountains as you head over the continental divide, passing through ski towns such as Frisco, Vail, Avon, and Glenwood Springs, and that's just the beginning. Feel free to stray off of the highway to find a gorgeous hike where you can stretch your legs (such as the Mohawk Lakes trail, just outside of Breckenridge.) Then, as you make your way to the western half of Colorado, you'll notice your surroundings taking on a much more reddish-hue than it's alpine counterpart.

Once you hit Grand Junction (known for it's red rock canyons and plethora of fossilized dinosaurs), you're just about 30 miles from the Utah border. But first, check out the brilliantly colored cliffs of Colorado National Monument, where you can find deep canyons, alive with piñon pines and cottonwood trees nestled at the foot of sheer rock walls, at the top of which you get panoramic views over miles and miles of the Colorado Plateau. Head into the ultimate "other-worldly" scenery of Utah and pretend you're on another planet, then break out of your stupor just in time to turn left on Highway 191 to Moab. Here you can awe over the most stunning desert scenes and land forms as you check out both Arches and Canyonlands National Parks, and hike and climb to your hearts content. (From here we highly recommend continuing west on I-70 through Utah until it ends and turns into I-15, where you can zoom down to Zion NP and Las Vegas. Heck, keep taking I-15 until you reach Los Angeles and dunk your head in the ocean!)
(Photo: outtherecolorado.com)

The Kancamagus Highway: New Hampshire
This 34.5-mile scenic drive along Route 112 in northern New Hampshire is best known for its spectacular fall foliage, but it's an idyllic adventure any time of year, especially when the snow blankets the ground and transforms the mountainside into a winter wonderland. On this journey, you'll have the opportunity to explore the breathtaking White Mountain National Forest, Swift River, Sabbaday Falls, Lower Falls and Rocky Gorge. The Kanc, as it's affectionately known by locals, takes you up to an elevation of just under 3,000 feet. Its highest point brings you to Kancamagus Pass on the flank of Mount Kancamagus near Lincoln, New Hampshire. Start your trip in Conway and stop at the Saco Ranger Station just west of town to pick up a map and plan your points of interest. Key attractions include the Albany Covered Bridge, built back in 1858, and picturesque Sabbaday Falls. The route will end in Lincoln, where you can stay overnight at The Mountain Club on Loon, which is open year-round and perfect for ski season.
(Photo oldsacoinn.com)

Historic Route 66: Chicago to Santa Monica
Stretching from Chicago to the end of the Santa Monica Pier in Los Angeles, this 2,500-mile route is often called the "Mother Road" — a nickname coined by author John Steinbeck. An ultimate American road trip experience, the 38-hour drive can be turned into a week-long trip filled with fascinating stops along the way. Start your journey in Chicago, where you can share a deep dish pizza and admire the masterpieces at the Art Institute of Chicago, before heading to Tulsa, Oklahoma, to visit the Blue Dome Entertainment District, a nine-block area with trendy eateries, local pubs, indie shopping boutiques, and nightlife venues. Another highlight here is the Blue Dome building, a revitalized 1920s-era Gulf Oil station. Next, stop at Cadillac Ranch in Texas (don't forget your spray paint!), and in New Mexico, soak in Albuquerque's unique vintage shops, hitting the historic Route 66 neon sign for photo ops. In Arizona, hike to your heart's content Petrified Forest National Park, but don't take any of the wood — it's been said to bring bad luck (and it's also illegal). Finally, end your journey in sunny California at the Santa Monica Pier and get on the iconic ferris wheel to watch the sunset over the Pacific Ocean.
(Photo escape.com.au)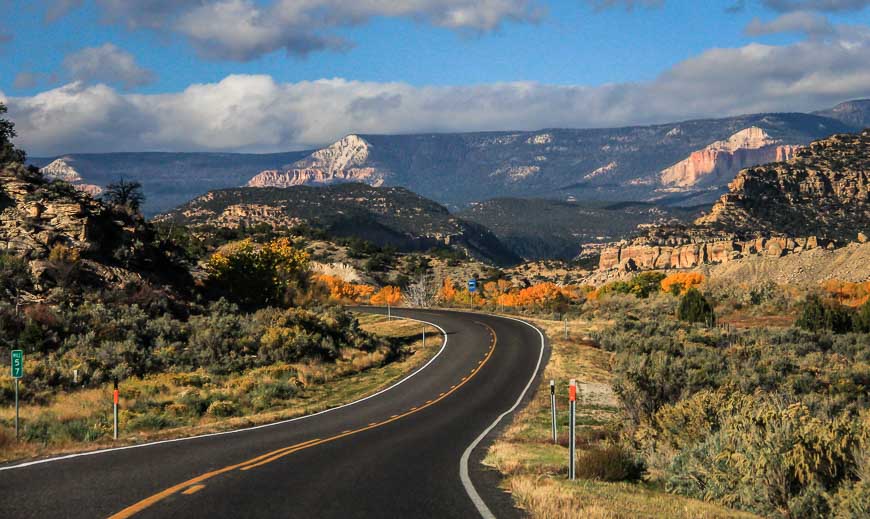 Utah's Scenic Byway 12
Scenic Byway 12 in Utah presents 120-plus miles of designated "All-American Road." At its summit of 9,000 feet, you can appreciate sweeping vistas of the Henry Mountains, Grand Staircase–Escalante National Monument, and shimmering red rocks of Capitol Reef National Park. Begin your drive in Panguitch and explore the scenery of Red Canyon and Bryce Canyon National Park. Next, take in the views at Kodachrome Basin State Park before spending a night at world-class glamping destination Escalante Yurts. The stars in the light-pollution-free Utah sky are undeniably out of this world. Make a point to visit the Escalante Petrified Forest State Park, and before concluding your journey, spend an afternoon exploring Capitol Reef National Park.
(Photo: hikebiketravel.com) 

Pacific Coast Highway: San Luis Obispo to San Francisco
Nothing says California dreamin' like seaside scenery combined with the tranquil ambience of Big Sur on the drive from San Luis Obispo to San Francisco. Start in San Luis Obispo, heading up Highway 1 through the seaside town of Morro Bay. Be sure to check out the majestic Morro Rock, and afterwards drive up to Cambria and take a look at Nitt Witt Ridge, a quirky Registered Historical Landmark. Farther up the coast is Ragged Point, where you can catch a glimpse of the awe-inspiring Big Sur coastline. Spend the night at Ragged Point Inn and hike down Ragged Point Trail for unparalleled views of the sea and a hidden waterfall. Enjoy the atmosphere of this laid-back, two-lane highway and make stops at McWay Falls and Pfeiffer Beach, where the sand turns purple after the rain. Leaving Big Sur, you'll hit Monterey County, where you can walk along Cannery Row and check out its historic antique shops, restaurants, and tasting rooms pouring local Monterey County wines. Then, embark on the scenic 17-mile drive in Pebble Beach for more incredible coastal views. Bonus points if you can hit Santa Cruz and its sturdy redwood forests as well as Half Moon Bay's tide pools before reaching your final destination. Finally, upon arriving in San Francisco, check out the lovely views of the Golden Gate Bridge from the adjacent Marin Headlands.
(Photo: mysuitecasejourneys.com)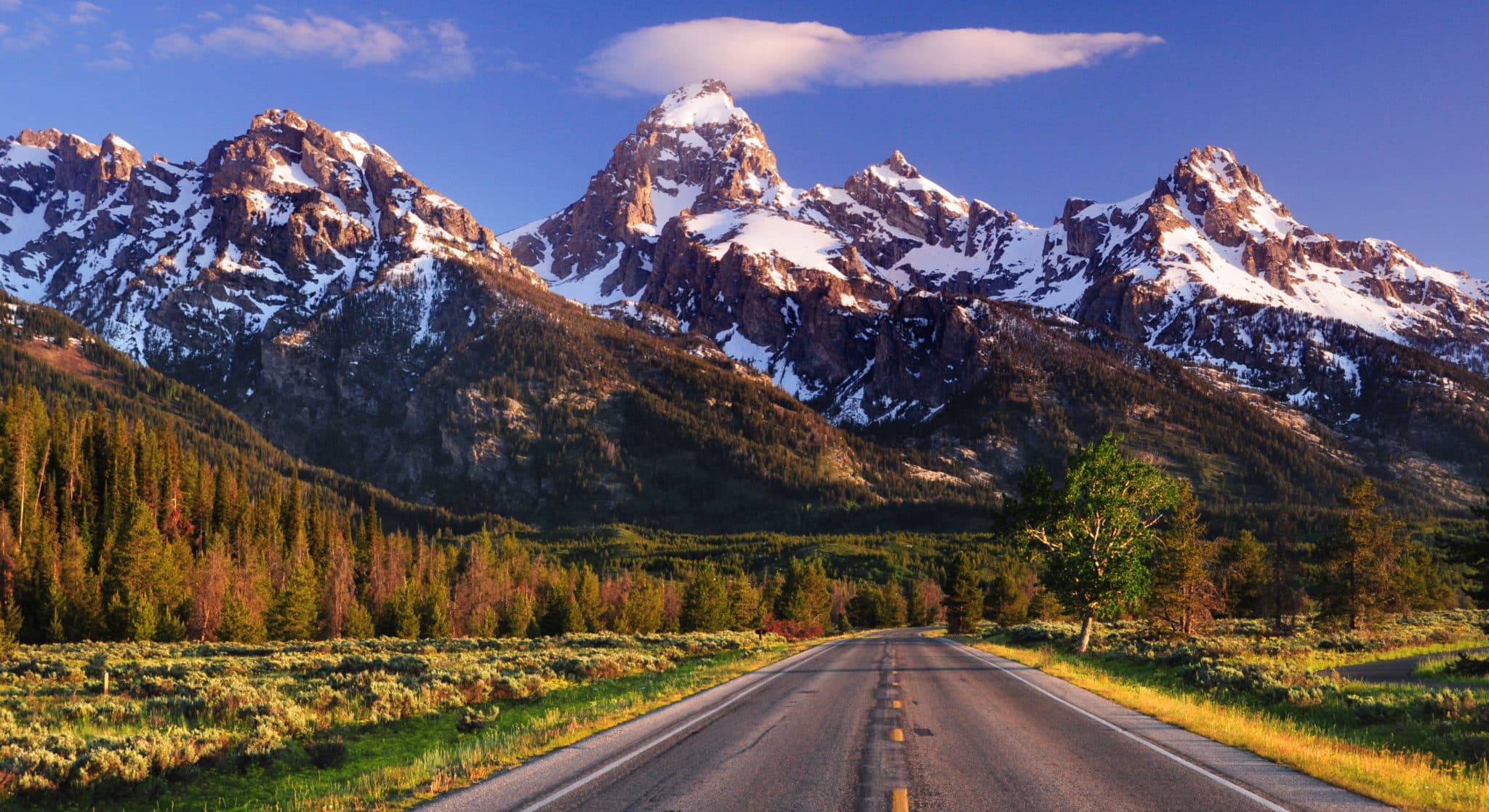 America's Northwestern National Parks
Begin your journey at Yellowstone National Park, where more than 10,000 hot springs and geysers, including the famous Old Faithful, can be found. Following Yellowstone, stop at Grand Teton National Park in northwestern Wyoming, which boasts a majestic mountain landscape, stunning alpine lakes, and vast grassy plains. Find a good camping spot and spend the night reveling in the backdrop of Teton views, before waking up early the next morning to catch the sunrise and head out for a day of horseback riding Wild West style. Next up on the itinerary is Arches National Park, with its 18-mile scenic drive and over 2,000 distinctively named arches, including the iconic Delicate Arch. Last on the list is Canyonlands National Park, which includes three major areas for all adventure levels: the less accessible, backcountry Needles region; the isolated, off-road Maze section; and easily reachable Island of the Sky, with a paved scenic drive featuring views of buttes, fins, and water-carved canyons.
(Photo: vacationraces.com)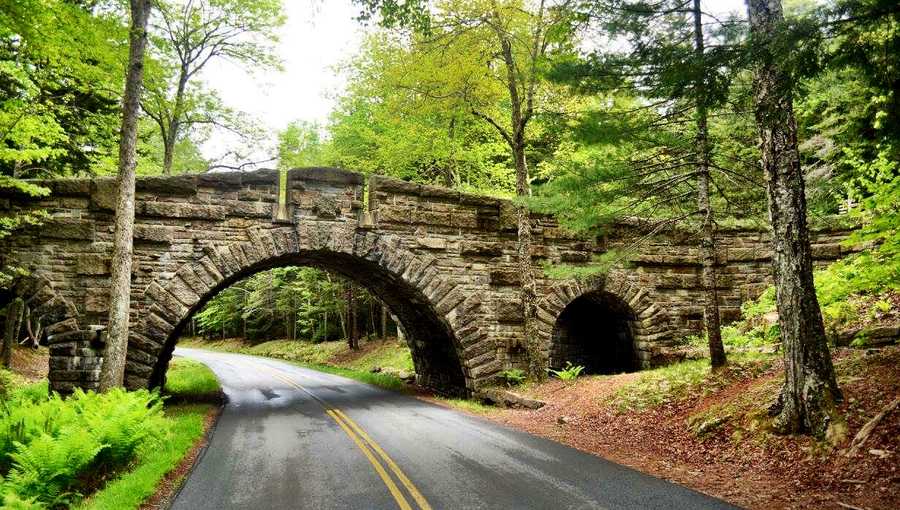 New England Route: Maine, New Hampshire, and Vermont
Start your journey in Acadia National Park, where 47,000 acres of hiking, biking, and wildlife await. Then, head to Camden, Maine — the self-described "Jewel of the Maine Coast." Here, you can shop downtown, picnic at the beach, and see some cool lighthouses. Speaking of lighthouses, next up is Portland, a city where over 40% of Maine's inhabitants live. During your visit, check out the 17 microbreweries (the most per capita of any city in the U.S.), art galleries, and of course, lighthouses, like the historic Portland Head Light along the shores of Fort Williams Park in Cape Elizabeth. Afterward, head west to the White Mountains in New Hampshire, where you can spend the day skiing your heart out at one of the many awesome resorts. Finally, pay a visit to Waterbury, Vermont, where you can tour the Ben & Jerry's factory and eat several pints before off into a cozy end-of-road trip hibernation.
(Photo: wmtw.com)

The Overseas Highway: Miami to the Florida Keys
The Overseas Highway from Miami to Key West offers a drive like no other. Suspended over water nearly the entire time, this 113-mile roadway crosses 42 bridges from Miami to the southernmost point of the U.S. (You'll be closer to Cuba than you are to Miami.) First you'll hit Key Largo, home to John Pennekamp Coral Reef State Park. You can enjoy a view of the reef from a glass-bottom boat tour or get a closer look by scuba diving or snorkeling at this underwater playground. Next up is Marathon, where you'll find the 1000-acre Curry Hammock State Park and the Dolphin Research Center. Then, you'll come to the Seven Mile Bridge — a pure, green-blue ocean drive — before arriving at Big Pine Key. Here, you can catch a glimpse of the elusive Key deer and spend the night to rest up for the next days activities. Now, you're only 45 minutes north of Key West, but you'll want to stop at Mangrove Mama's, a landmark restaurant on Sugarloaf Key that serves fresh local seafood. Following lunch, spend the rest of your time lazing at the beach with a pina colada in hand, and finish off the day in Key West at Mallory Square, just in time for the most romantic event of the evening: Sunset Celebration. 
(Photo: nationalgeographic.com)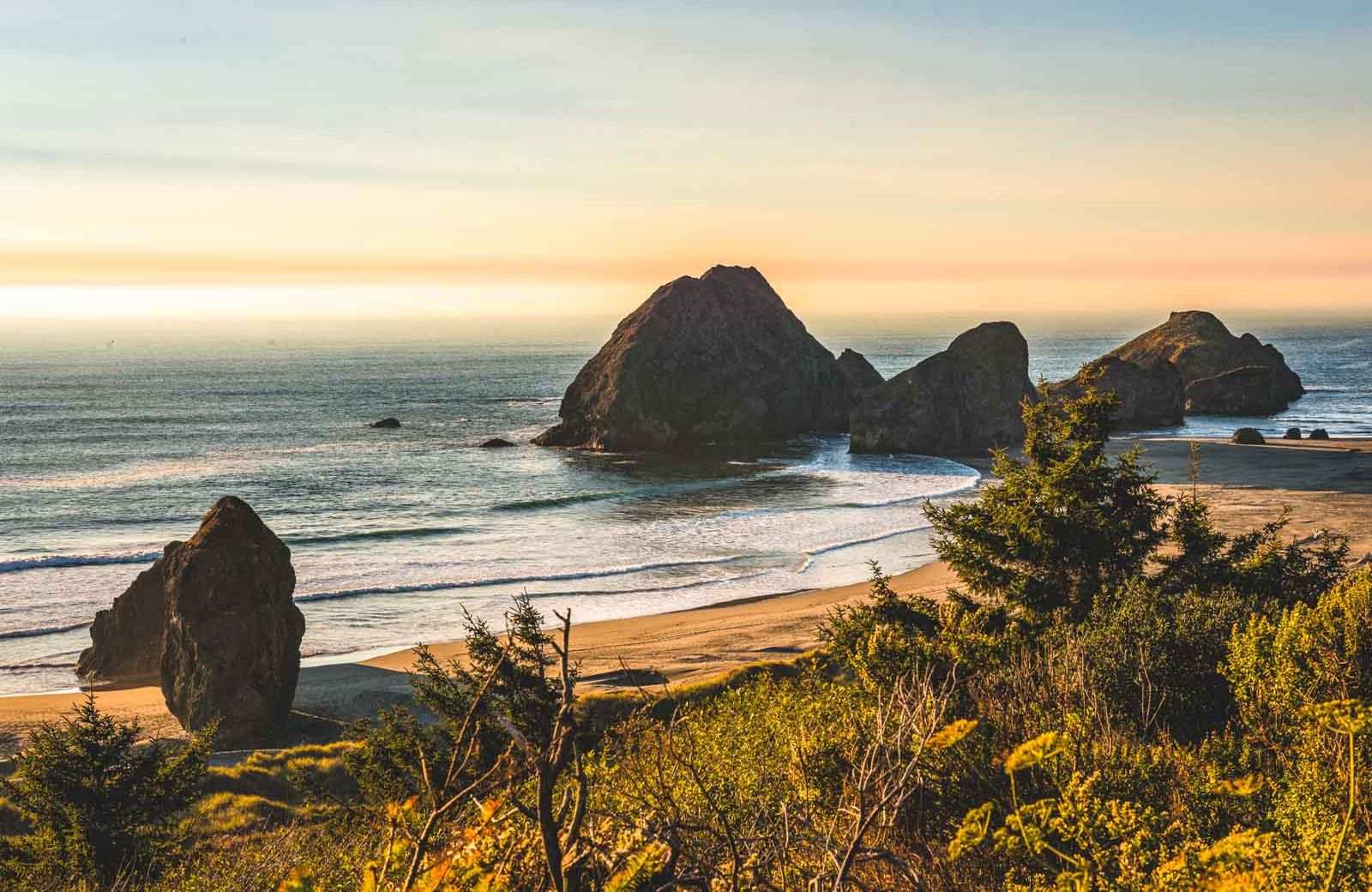 Oregon's Scenic Coast
While driving up Route 101 along the Oregon coast, your first stop will be the scenic Samuel H. Boardman State Scenic Corridor. Here, 12 miles of lush forest come up to untouched beaches, massive jagged rocks, and clear, blue water. Visit Arch Rock Picnic Area and Natural Bridges to have lunch before making a stop at the Oregon Dunes National Recreation Area. Stay overnight at one of the numerous resorts in Newport, where many rooms come with oceanfront balconies (or heck, just camp on the beach to save some money - we won't tell!). Next up, drive the Three Capes Scenic Loop and admire Haystack Rock, an impressive 235-foot sea stack on Cannon Beach. Then, pay a visit to Ecola State Park before holding a nighttime bonfire at Cannon Beach. End your journey in Seaside and enjoy its historic arcade, old-fashioned carousel, bumper cars, and indoor miniature golf. The loser has to buy the winner some signature Seaside saltwater taffy.
(Photo: oregonisforadventure.com) 

Montana's Glacier Country
Mountain biking, hiking, and some of the world's best skiing are just a few of the offerings in Big Sky Country. Begin your road trip in Missoula, Montana's cultural hub and home to the University of Montana. Spend some time exploring one of the nearby natural hot springs or visiting River City Brews Rafting Tours for a guided trip down the river with stops at local breweries, cideries, and taprooms. After that, make the drive up to Flathead Lake, the largest natural freshwater lake west of the Mississippi, with over 200 square miles of water for sailing, fly-fishing, and waterskiing. For remarkable views of Flathead Lake, spend the night at Mountain Lake Lodge in Bigfork. Continue another 32 miles north to Whitefish, which offers prime hiking and skiing opportunities. Here, you can also enjoy a coffee-roasting tour by Montana Coffee Traders to put some pep in your step, before capping things off at Glacier National Park as a final destination for some majestic mountain and lakeside scenery.


BY MOLLY O'BRIEN/KELLY BELKNAP