5 U.S. Cities That Will Make You Feel Like You're In Europe
Although things are slowly getting back to normal, European vacations and international travel are still on hold for most of us at the moment. But don't worry, even though a trip across the Atlantic may not be in your summertime-travel-plans just yet, there are plenty of places to check out right here in the U.S. that might make you feel a little bit closer to those dreamy European destinations... Here's a list of 5 cities in the U.S. to make you feel like you're in Europe after all!

Ps. If you're in need of a new backpack for your upcoming summer travels, make sure to check out ours right here!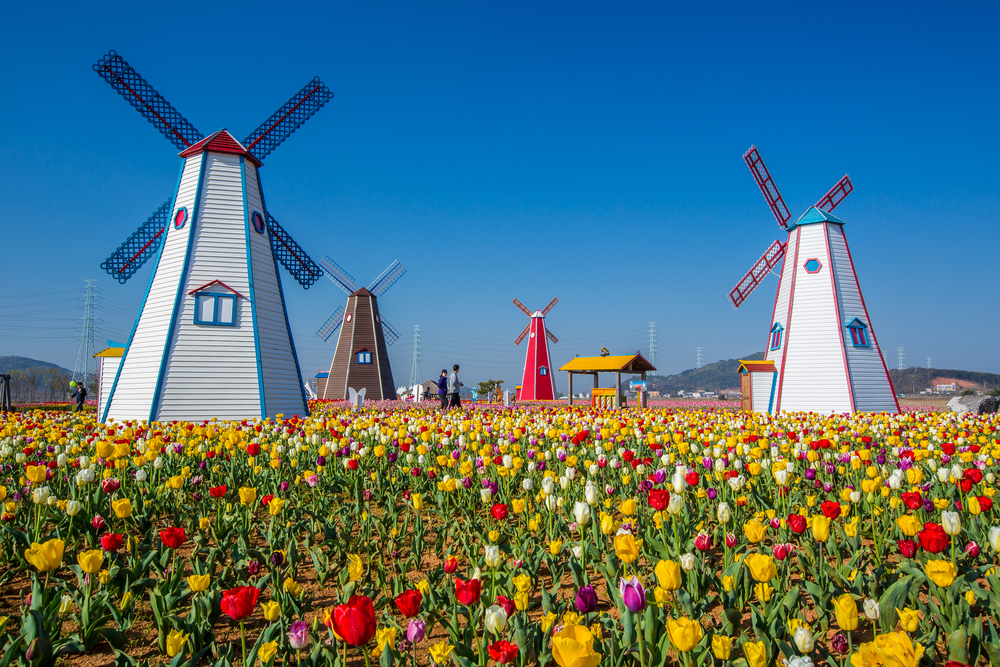 Holland, MI
If you want to feel like you're in the Netherlands for the weekend, Holland, MI is the place to go! The town is home to plenty of Dutch restaurants and bakeries, as well as the world-famous Veldheer Tulip Gardens, where over 5 million tulips explode into bloom each spring. If you're not able to make a trip during the tulip festival, there's plenty of Dutch-inspired activities during the rest of the year as well. Visit the Holland Museum to learn about the town's Dutch heritage, or take a tour of the Windmill Island Gardens, home to DeZwaan - the only authentic Dutch windmill in operation in the U.S.
(Photo: westmichiganglobalinitiative.com)
Solvang, CA
Wandering the streets of Solvang, it's easy to forget you're a mere 45 minutes from Santa Barbara and not in a quaint village in Denmark. Solvang is Southern California's very own Danish utopia—home to traditional Danish buildings with gabled roofs, a replica of Copenhagen's Little Mermaid statue, and not just one, but four windmills. The town is also home to plenty of Danish bakeries, rural houses and an assortment of traditional Christmas shops. With its particular charm and obvious nod to Scandinavian culture, Solvang is the unofficial "Danish Capital of America".
(Via: culturetrip.com)
St Augustine, FL
St. Augustine is located on the northeast coast of Florida. It lays claim to being the oldest city in the U.S., and is known for its Spanish colonial architecture as well as beautiful beaches. You can visit the historical 17th-century Spanish stone fortress of Castillo de San Marcos, or hop on the Old Town Trolley to get a tour of the old city streets and learn about the rich history of St. Augustine. Also make sure to visit the Colonial Quarter - an interactive experience that gives you a peek into life through the history of the city throughout its different eras.
(Photo: travelawaits.com)
Leavenworth, WA
Leavenworth, Washington is probably the closest you'll get to an old-fashioned German town without leaving the country. You won't see castles, cathedrals or cobblestones, but this lovely little half-timbered town on the banks of the Wenatchee River has just about everything else that you'd find in a traditional Bavarian village - plus plenty of outdoor activities to keep you busy for days. The city was remodeled in the 60's to resemble a German village, but the town didn't stop at aesthetics. In addition to architectural updates there are also restaurants serving German beer and food lining the main street, as well as European style museums and shops.
(Photo: kidtripster.com)
Healdsburg, CA
With its undulating hills and abundance of vineyards and wineries, the Northern California town of Healdsburg looks strikingly similar to Tuscany. In fact, both places fall along the same line of latitude and have similar temperate climates, making Healdsburg the ideal growing ground for Tuscan grape varietals like Sangiovese and Cabernet Sauvignon. One winery in particular, Portalupi, specializes in creating Italian-inspired wines, or what the owners (both of whom have Italian ancestry) dub "Cal Ital." The area is also home to a variety of Italian restaurants specializing in Tuscan cuisine, with menus featuring panzanella and ribollita. However, the scenery alone is enough to transport you to a lazy afternoon basking in the Tuscan countryside.
(Via: smithsonianmag.com)